This free printable Complete Cruise Packing Check List includes a detailed list of essentials, electronics, clothing and more.
Cruises are awesome, am I right? Sailing to various locations, taking in different climates and going on excursions make for the best times on those floating resorts. Of course, packing for all of those circumstances can often create a challenge. To alleviate a little bit of packing anxiety, simply print my Complete Cruise Packing List.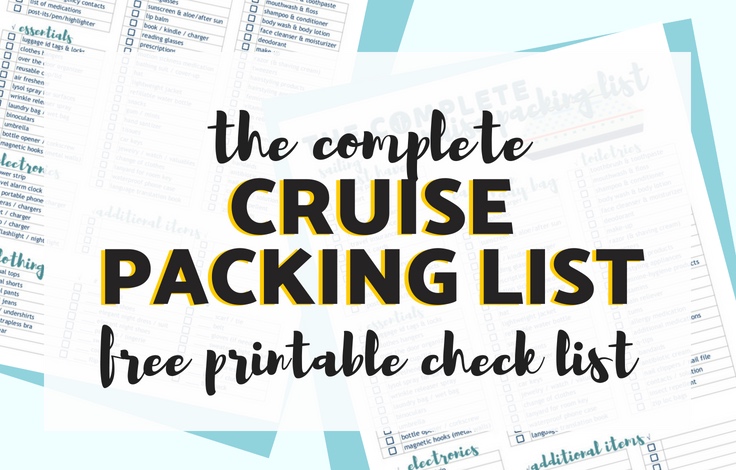 The truth is that packing for a cruise can often feel like packing to move! There's the swimwear, flip flops and casual daytime clothes, the elegant night formal wear, comfortable walking shoes for ports, all of the toiletries, electronics and a laundry list of other items. Just like packing to move it is not always easy to know where to even begin. Enter: my Complete Cruise Packing List.
Complete Cruise Packing List
Disclosure: This post may contain affiliate links. Full disclosure policy can be read here.
This list is divided by category to help ease any packing anxiety or overwhelming feelings. Because, let's face it you are either reading this post because you are an extremely organized person OR you need all the help you can get with organization. Either way you are here to ensure you have your bases covered. That said, if you happen to be standing in line to check-in when it hits you that you've forgotten something do not worry! There are shops aboard all cruise ships which means there is a very good chance you can purchase it onboard.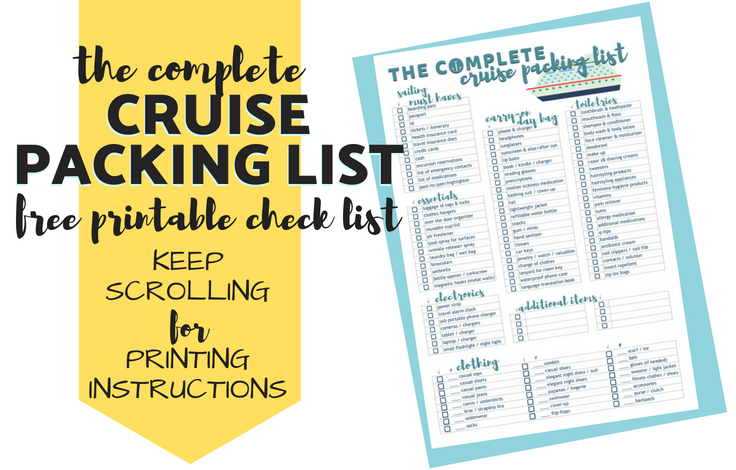 Additional things to consider when preparing for your cruise:
Airline baggage weight limits (been there and the fees are not so friendly);
Special needs, including arranging for a wheelchair if needed;
Early boarding (some cruise lines offer VIP early boarding options for a fee);
And don't forget to add any special clothing you may need for excursions!! You will likely have your excursions picked out or at least considered before you board the ship. Think about what you might need for those off the boat activities and be sure to add them to your list. I left blank spaces just for those types of things.
A few of my absolute-do-not-cruise-without-them items include: 
TrishSutton.com newsletter subscribers have exclusive access to ALL of my printables. To receive a link to view, print and download all of my printables, sign up below!
Current subscribers: there is a direct link to my printables library at the bottom of every email newsletter. Check your inbox for the last email that you received! (Or send me an email to receive another copy.)
After you signup you will receive a confirmation email. Upon confirming your email address you will receive access (including the current password) the Subscriber Exclusive Printables Library. Newsletters will be delivered to your inbox 2 – 4 times a month.
Your privacy is important to me; therefore, I promise not to spam you or share your information. Every printable that I create is for PERSONAL USE ONLY. See my privacy policy for more information.