Cabin fever is for real! Experiencing isolation with children can stretch your imagination and quite possibly test your patience. When you run out of homebound activities this free printable Cabin Fever Bucket List includes 50 Things for Kids to do in (or around) the House.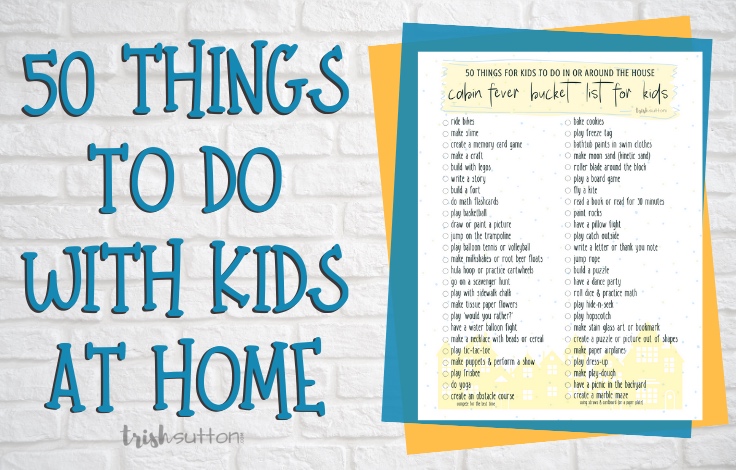 As the old saying goes, desperate times call for desperate measures. At this time, current times call for desperate measures.
50 Things for Kids to do in or Around the House
Disclosure: This post may contain affiliate links. Full disclosure policy can be read here.
The world is in a state of emergency. Schools, gyms, libraries, offices and sit-down restaurants have been temporarily closed. There are corporate offices that can be compared to the likes of ghost towns because of the desperate need for people to stay home and work remotely. And the terms "social distancing" and "isolation" have become part of our daily vocabulary.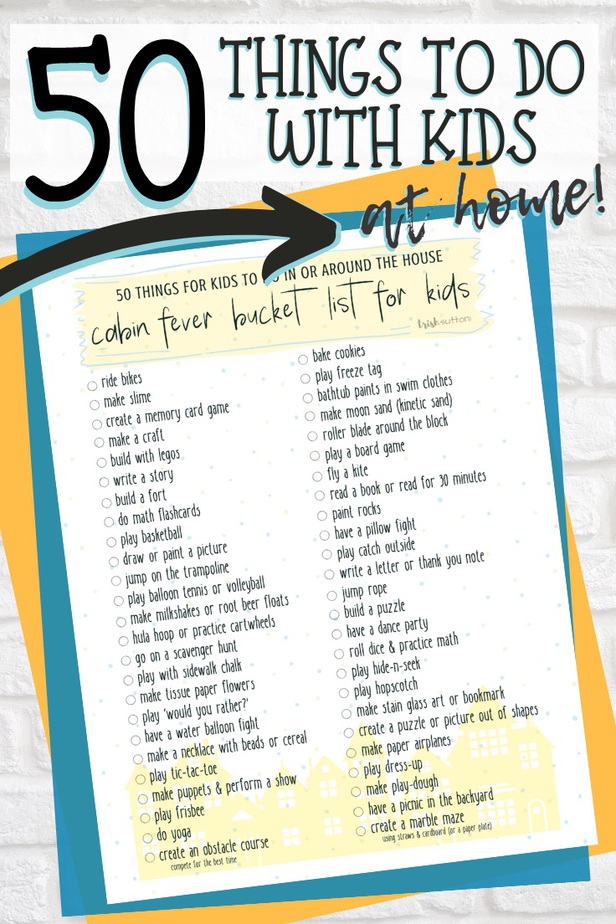 The outbreak of Coronavirus has led to the isolation of families across the globe. Outside of bike rides our family has not left our house (or backyard) in days. We are doing our part to slow down the spread of COVID-19. And in doing so we have added extra reading, a plethora of games, puzzles, activities and short lessons to our daily schedule. I know that we are not alone which is why I created this list of 50 Things for Kids to do in (or around) the House.
Cabin Fever Bucket List
Click on the image below to print this List of 50 Things to do with Kids at home and stay healthy.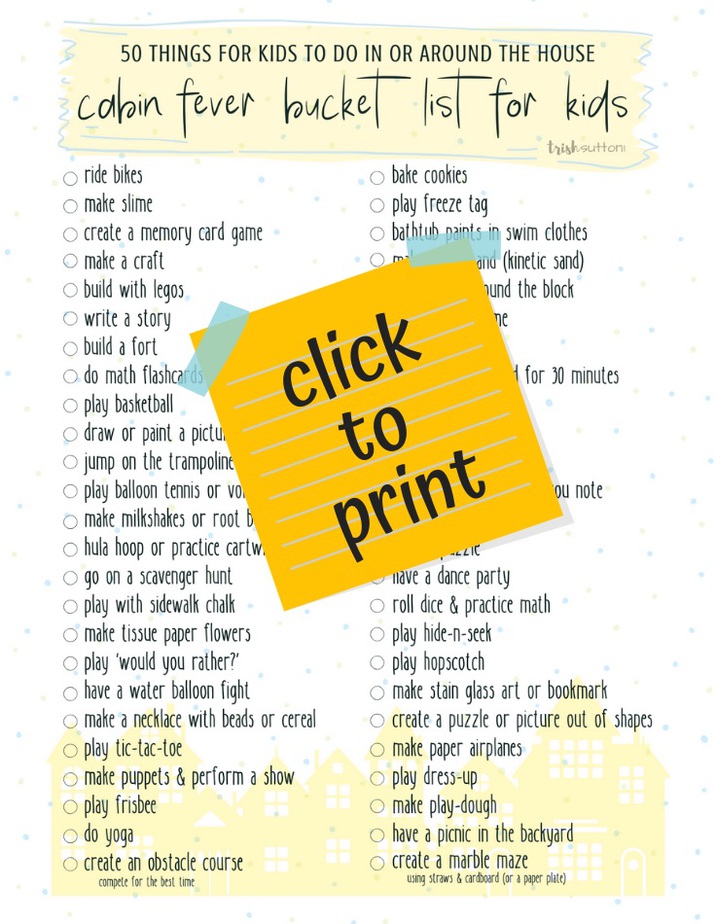 If you have ideas for homebound activities to offer to the children with cabin fever, please leave them in the comments below. Undoubtedly, there is a parent out there that will benefit from what you have to share. We really are all in this together. Just together in our own spaces.

TrishSutton.com newsletter subscribers have exclusive access to ALL of my printables. To receive a link to view, print and download all of my printables, sign up below!
Current subscribers: there is a direct link to my printables library at the bottom of every email newsletter. Check your inbox for the last email that you received! (Or send me an email to receive another copy.)
After you signup you will receive a confirmation email. Upon confirming your email address you will receive access (including the current password) the Subscriber Exclusive Printables Library. Newsletters will be delivered to your inbox 2 – 4 times a month.
Your privacy is important to me; therefore, I promise not to spam you or share your information. Every printable that I create is for PERSONAL USE ONLY. See my privacy policy for more information. 
In addition to the 50 things for kids to do I have also complied a list of 20 games under $20. Check them out HERE!