The current times call for extra creativity and more indoor activities. 10 Two Ingredient Recipes for Sensory Play on this list including play dough, dust, putty and slime.
Last week I shared 20 Board Games Under $20 and 50 Things for Kids to do in (or Around) the House. This week I have a total of 13 boredom busters that are quick to create and are sure to keep little hands busy on long days indoors. Six of these quick activities are even edible! You will find that the three bonus recipes near the bottom of the page require a couple extra ingredients but they are just as much fun to make and play with.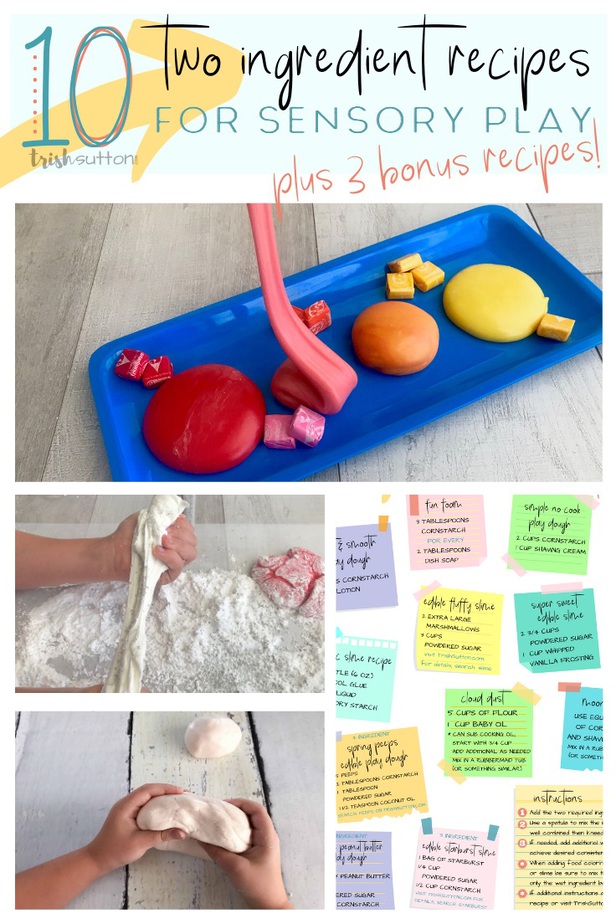 10 TWO INGREDIENT RECIPES
FOR SENSORY PLAY
Disclosure: This post may contain affiliate links. Full disclosure policy can be read here.
Supplies:
Optional Supplies:
Food Coloring; if desired, add a bit of color to any one of these recipes
Craft Glitter; if desired, add glitter to the non-edible slime recipes
Edible Glitter; if desired, add sugary glitter to any one of the edible sensory play recipes
Instructions:
Simply add the two required ingredients to a mixing bowl then use a spatula to mix the ingredients until they are well combined.
If needed, add additional wet or dry ingredient noted to achieve desired consistency.
When adding food coloring to the play dough, dust, putty or slime be sure to mix the food coloring with only the wet ingredient before adding the dry ingredient.
If additional instructions are required see the links and/or any additional instructions below recipes.

If you are a current subscriber to the TrishSutton.com newsletter you have access to a printable that includes all 13 sensory play recipes. Now, let's get to those play dough, putty and slime recipes!
10 TWO INGREDIENT RECIPES
FOR SENSORY PLAY
SIMPLE NO COOK PLAY DOUGH
SOFT & SMOOTH PLAY DOUGH
SUPER SILKY PLAY DOUGH (aka Cloud Dough)
MOON DUST
Shaving Cream
**Equal parts of cornstarch & shaving cream; if you are adding food coloring mix it into the shaving cream before adding the cornstarch. Mix in a rubbermaid tub (or something similar).
CLOUD DUST
5 Cups of Flour
1 Cup Baby Oil
**You can also use cooking oil; start with ¾ cup and add additional as needed for desired consistency. Mix in a rubbermaid tub (or something similar).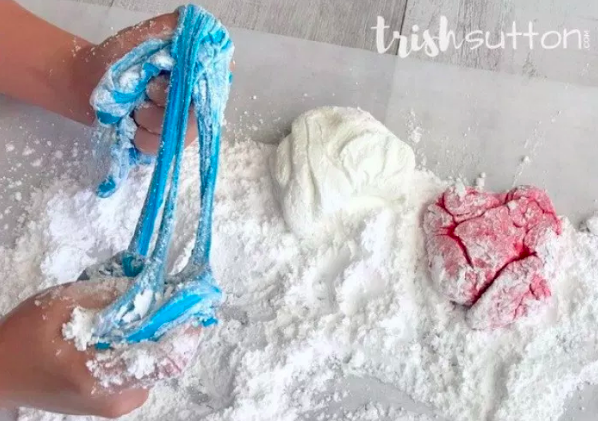 SUPER SWEET EDIBLE SLIME
SLIME MADE WITH GLUE
BONUS 3 INGREDIENT RECIPES
FOR SENSORY PLAY
EDIBLE STARBURST SLIME (3 ingredient)

EDIBLE PEANUT BUTTER PLAY DOUGH (3 ingredient)
AND FOR THE PEEPS FANS
4 INGREDIENT RECIPE FOR SENSORY PLAY
PEEPS EDIBLE PLAY DOUGH (4 ingredient)
5 Peeps
2 Tablespoons Cornstarch
1 Tablespoon Powdered Sugar
1 ½ Teaspoon Coconut Oil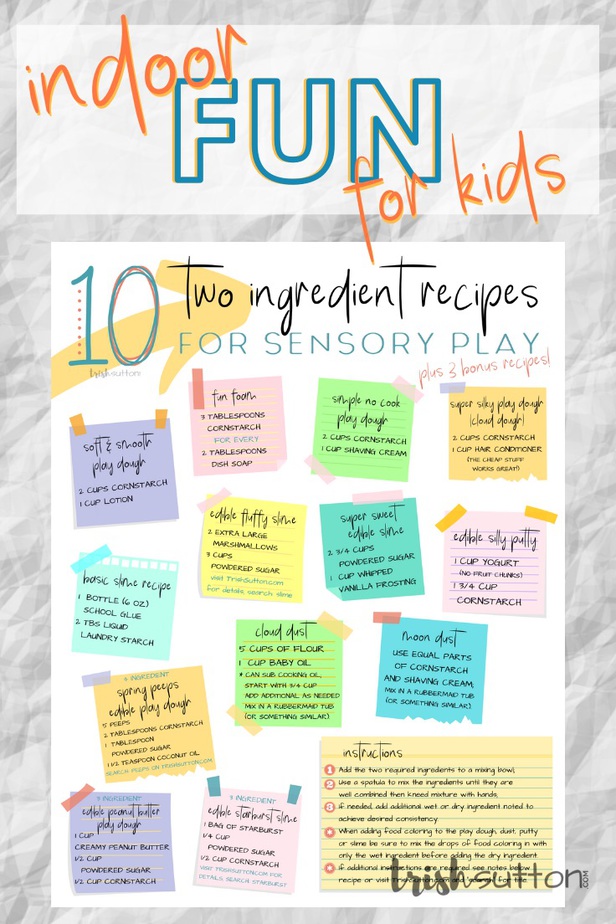 TrishSutton.com newsletter subscribers have exclusive access to ALL of my printables. To receive a link to view, print and download all of my printables, sign up below!
Current subscribers: there is a direct link to my printables library at the bottom of every email newsletter. Check your inbox for the last email that you received! (Or send me an email to receive another copy.)
After you signup you will receive a confirmation email. Upon confirming your email address you will receive access (including the current password) the Subscriber Exclusive Printables Library. Newsletters will be delivered to your inbox 2 – 4 times a month.
Your privacy is important to me; therefore, I promise not to spam you or share your information. Every printable that I create is for PERSONAL USE ONLY. See my privacy policy for more information.