Do you prefer silly messages or sentimental quotes when you are sharing a Happy Anniversary card with your love?
How often do you spend double the time you expect to in the greeting card aisle? It is inevitable that I pick up card after card for double and sometimes triple the time that I think it should take.
In my opinion, selecting a card for someone beit Birthday, Anniversary or otherwise is 100% mood based. More times than not I keep the message light and go for a card that is somewhat silly or short and sweet. Even with my husband.
(Speaking of! To my husband, Happy Anniversary!
Today I have loved you for 4,501 days. And I will not stop!!)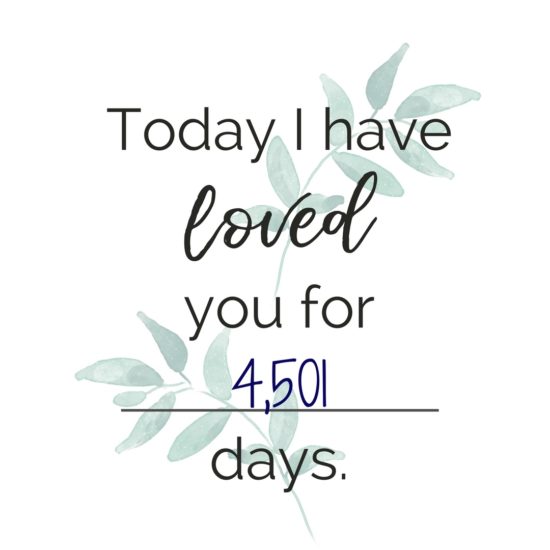 Happy Anniversary
Three Printable Greeting Cards
In celebration of mine and my husband's wedding anniversary I have created three different free printable 'Happy Anniversary' greeting cards. One of which is sure to cover the mood of the giver!
Supplies Needed:
Free Printable Greeting Card(s)
Instructions:
Select "fit"  in the printer settings before printing for the best look on paper.

Simply scroll down to the card options below and click on the anniversary card (or cards) that you would like to print. Add cardstock or greeting card paper to your printer and print the first page.  Next, feed the sheet of paper back into the printer and print the second page. Voila!
This year me and the hubs will celebrate our 9th anniversary in Las Vegas with George Strait. We also spent our 7th anniversary in Las Vegas two years ago. That same year I created three love greeting cards including an anniversary card. You can view (and print) those cards right here.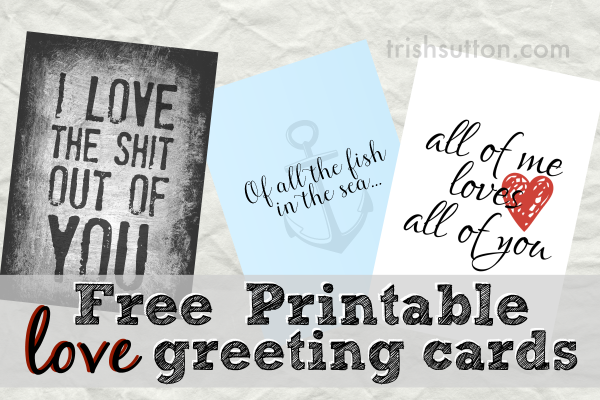 I will be sharing (and possibly over sharing) pictures and videos of George Strait on social media soon. Come see! (@bytrishsutton)
Pin this post!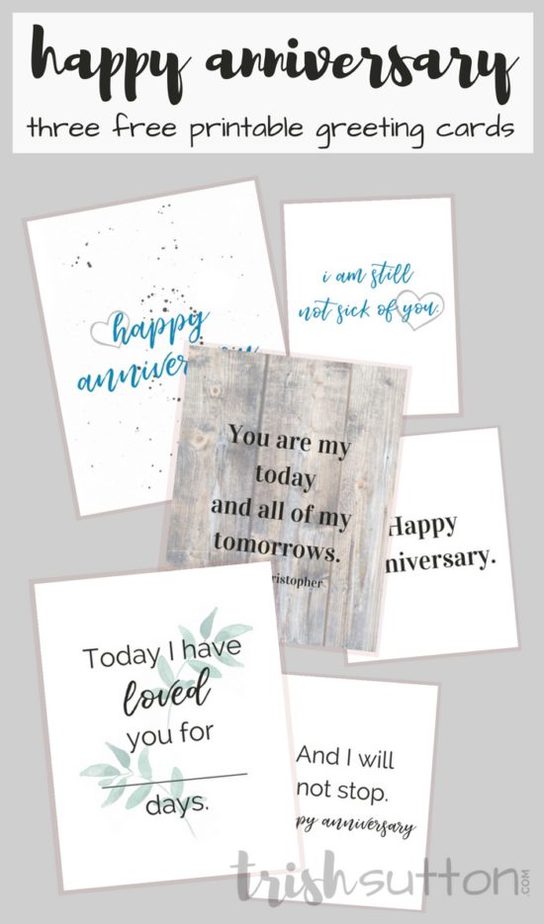 TrishSutton.com newsletter subscribers have exclusive access to ALL of my printables. To receive a link to view, print and download all of my printables, sign up below!
Current subscribers: there is a direct link to my printables library at the bottom of every email newsletter. Check your inbox for the last email that you received! (Or send me an email to receive another copy.)
Upon clicking the confirmation link a web page will open giving you immediate access to my printables library. My newsletters will be delivered to your inbox 2 – 4 times a month.
Your privacy is important to me; therefore, I promise not to spam you or share your information. Every printable that I create is for PERSONAL USE ONLY. See my privacy policy for more information.