Happy New Year!! Confession: I do not set resolutions. I have never been one to create a "New Year's Resolution"; however, that does not mean that I do not believe in starting fresh and the magic of beginnings, which is why I created a free frameable printable to celebrate 2018.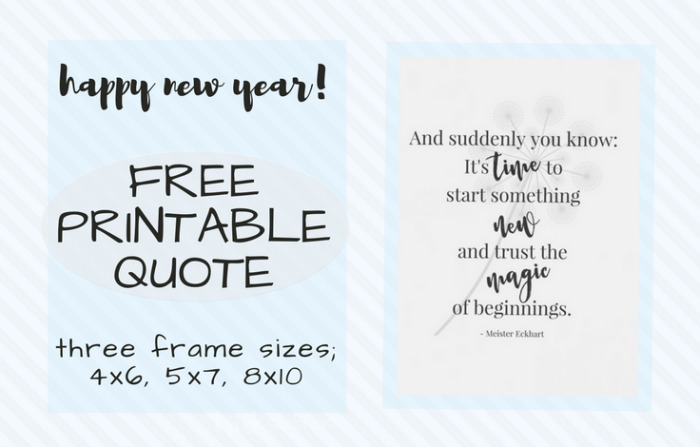 The number of times throughout the year that I decide to start something over are countless. Sometimes the mood to clear my mind and start again comes in the middle of an ordinary day. And sometimes I come up short. Even worse, I don't always 'start again' when I should. Regardless, I am a firm believer in second, third and fourth chances.
Happy New Year
Disclosure: This post may contain affiliate links. Full disclosure policy can be read here.
The excitement of turning a calendar page and starting a new year does not escape me. Nor does the energy or the hope to do better. I love hearing my family and friends' goals and dreams. I love knowing that it is never too late to try something new, do something better or start over.
In the words of Meister Eckhart…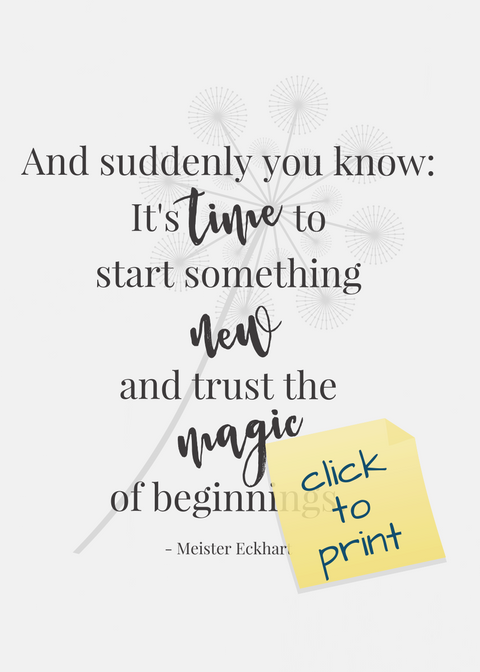 Whether that time comes on December 31st, January 1st or in the middle of an ordinary Thursday, trust the timing and embrace the magic. 
TrishSutton.com newsletter subscribers have exclusive access to ALL of my printables. To receive a link to view, print and download all of my printables, sign up below!
Current subscribers: there is a direct link to my printables library at the bottom of every email newsletter. Check your inbox for the last email that you received! (Or send me an email to receive another copy.)
After you signup you will receive a confirmation email. Upon confirming your email address you will receive access (including the current password) the Subscriber Exclusive Printables Library. Newsletters will be delivered to your inbox 2 – 4 times a month.
Your privacy is important to me; therefore, I promise not to spam you or share your information. Every printable that I create is for PERSONAL USE ONLY. See my privacy policy for more information. 
Happy New Year to you and yours…