School's out for summer! Today is my little guy's last day of second grade. This is summer #9 and I am ready. Truth be told I would love to start at #1 again! I am ready to do every summer over. Alas, here we are on #9 and it's time to create our Summer Bucket List.
Repost from June 19, 2017; Not only is it notable that I am sharing this post again two years later and we are now on summer #9, it is also notable that yesterday the temperature rose to a cool 72* degrees here in the desert. Just a mere 49* degree difference from when I wrote the following post two years ago… 
Eighteen summers. That's it.
"You get 18 summers." My best friend recently shared those words with me. Earlier that week she had read those very same words and with having two children in their twenties they resonated with her. Eighteen. And as we all know, they go too fast.
Summer Bucket List
Disclosure: This post may contain affiliate links. Full disclosure policy can be read here.
My little guy was not short on ideas when we discussed the things he wanted to do during summer #7. There were a couple items on his list that surprised me likewise there were the predictable summer musts. All in all we ended up with a list of twenty things to do that will all too soon be memories of his summer between kindergarten & first grade.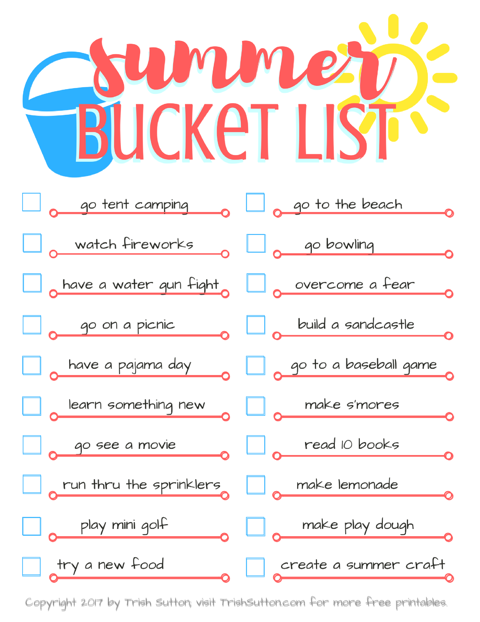 While the first official day of summer is later this week, our summer began weeks ago.  In central Arizona the school year ends before Memorial Day. And the temperatures often reach low 100s by the end of May which definitely feels like summer. That said, we have had a head start on marking items off of our summer bucket list.
We are currently on our second getaway of the summer. The first one took us to the beach for five days. We are back at the beach again for an extended Father's Day weekend. Hence the sand castle being marked off the list!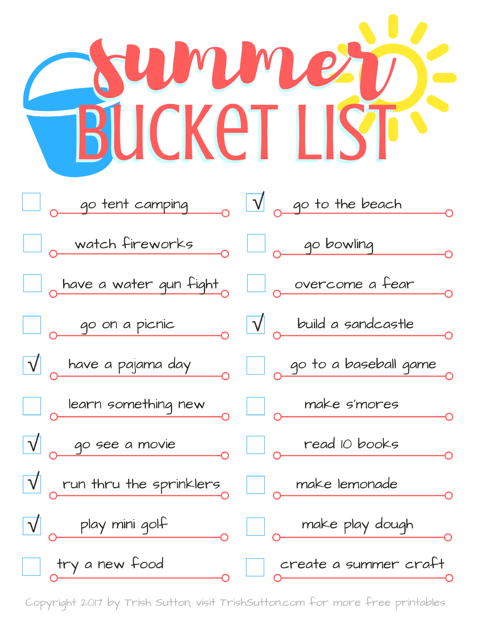 I don't know that we will mark anything else off of our summer bucket list before we return home. However, after seeing this week's forecast I can already tell you that "pajama day" is happening when we get home. CHECK. (If you follow me on facebook you might have seen that this week's forecast holds a high temperature of 121 degrees in Scottsdale. If only we could stay at the beach forever!)

TrishSutton.com newsletter subscribers have exclusive access to ALL of my printables. To receive a link to view, print and download all of my printables, sign up below!
Current subscribers: there is a direct link to my printables library at the bottom of every email newsletter. Check your inbox for the last email that you received! (Or send me an email to receive another copy.)
After you signup you will receive a confirmation email. Upon confirming your email address you will receive access (including the current password) the Subscriber Exclusive Printables Library. Newsletters will be delivered to your inbox 2 – 4 times a month.
Your privacy is important to me; therefore, I promise not to spam you or share your information. Every printable that I create is for PERSONAL USE ONLY. See my privacy policy for more information.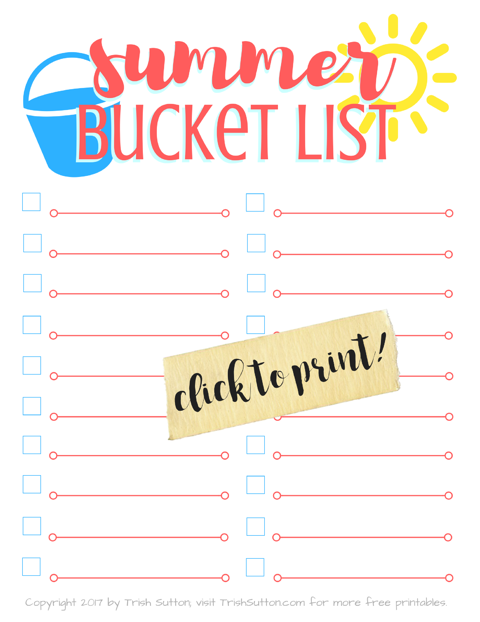 With or without a bucket list we will do our best to make the most of our eighteen summers. Even if some summer days are spent in pajamas.  
What's on your Summer Bucket List?

Now, on to creating our Summer Bucket List for summer #9….