A simple game and fun way to treat friends & neighbors during the Halloween season. You've Been Booed Halloween Fun Free Printables.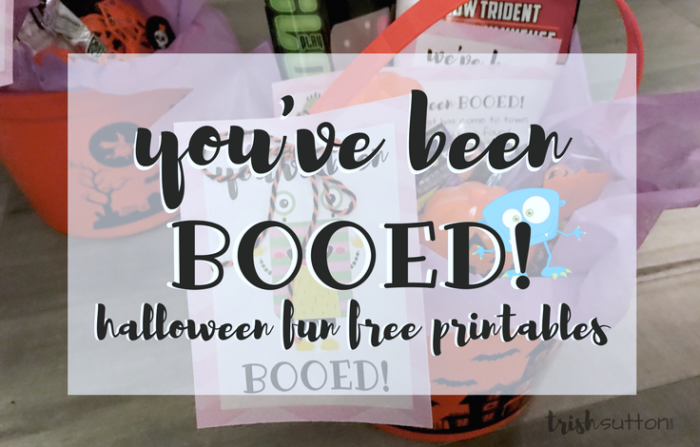 Disclosure: This post may contain affiliate links. Full disclosure policy can be read here.
On Sunday evening our doorbell rang just after dark. There was no one there when we opened the door; however, left behind the phantom ring we found an orange box filled with treats. Attached to that festive box was a big mylar balloon that read, HAPPY HALLOWEEN along with a polka dot sign that read, "You've Been BOOED".
"You've Been Booed" is a simple game and fun way to treat neighbors and friends during the Halloween season. The contents of the bright orange boo box that was left at our door included glow sticks, play doh, a cupcake and a twinkie, a magic expandable wash cloth, Pirate Booty, lollipops, silly string, Skittles, and a sling shot. There was also a "We've Been Booed" sign included for us to attach to our door.
Have you ever been booed?

If not, have you ever seen "We've Been Booed" signs displayed on the homes in your neighborhood? If you have never been booed then there is no time like the present to get the game started. It is possible that after you start the game you might even be on the receiving end of a phantom ring.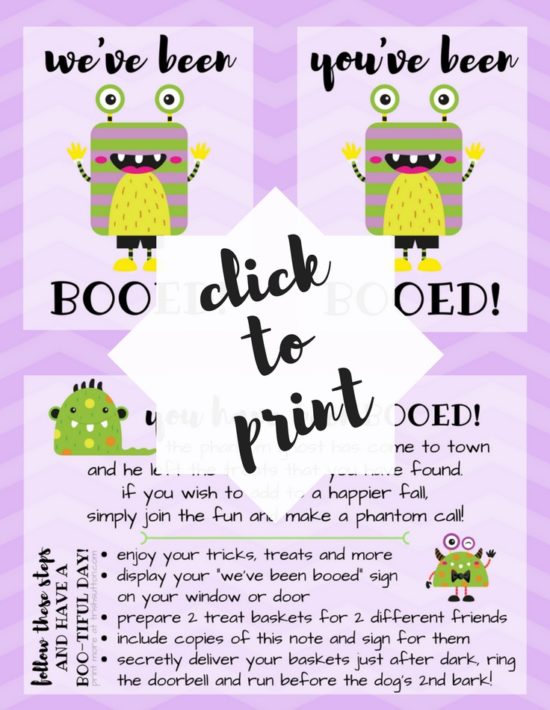 You've Been Booed
The steps involved in this simple Halloween game are as follows:
Create two Halloween themed gift baskets, bags or boxes for two different friends or neighbors;
Attach a "You've Been Booed" note to the outside;
Add a note inside the basket so that the recipient understands that they have been booed;
Include a "We've Been Booed" sign for them to place on their door or window;
Secretly place the boo baskets that you created on the doorsteps of friends or neighbors (who have not yet been booed) then ring the doorbell then RUN!!
Before we reciprocated the Halloween box of fun I created a printable to use for our friends. You can find that free printable RIGHT HERE and below is a list of the treats that we added to our Halloween buckets.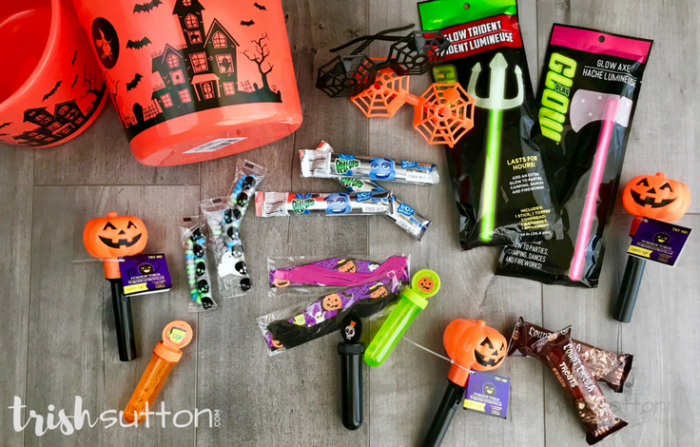 You've Been Booed
Jack-O-Lantern Flashlights
Bubbles
Glow Sticks
Spider Web Glasses
Boo Berry Fruit Roll-Ups
Count Chocula Treats
Glider Planes
Halloween Candy Bracelets
Scavenger Hunt Printable
Halloween Candy Scavenger Hunt Printable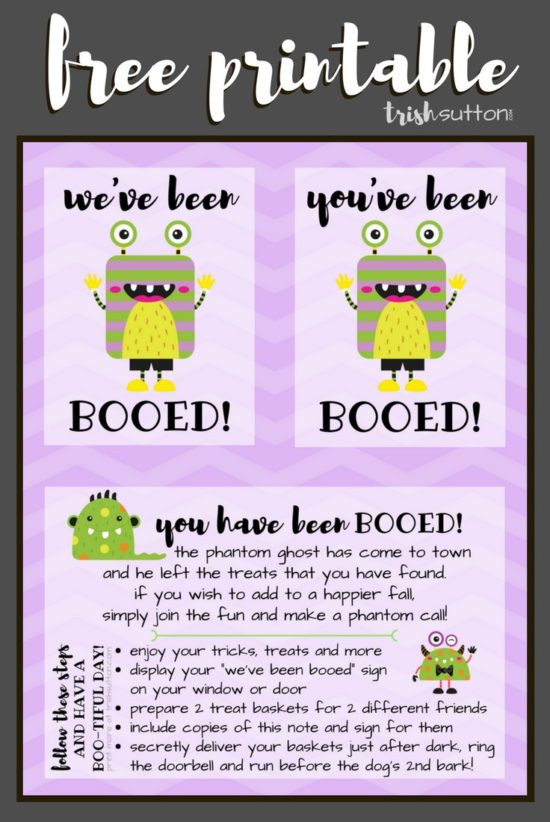 Below is a different design for this Halloween Game; find that free printable here!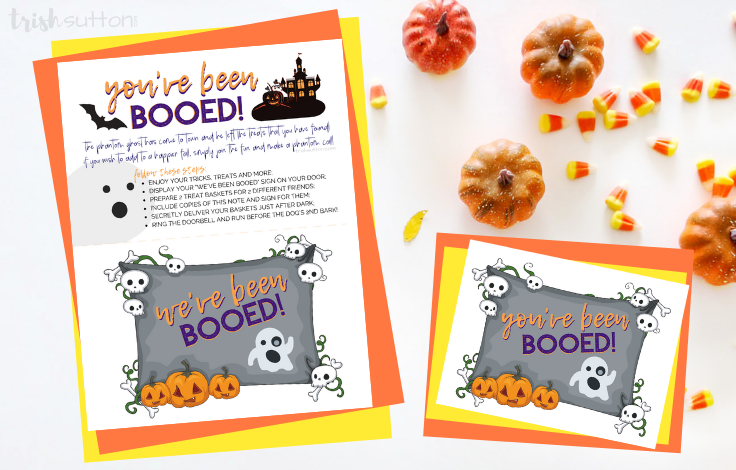 TrishSutton.com newsletter subscribers have exclusive access to ALL of my printables. To receive a link to view, print and download all of my printables, sign up below!
Current subscribers: there is a direct link to my printables library at the bottom of every email newsletter. Check your inbox for the last email that you received! (Or send me an email to receive another copy.)
After you signup you will receive a confirmation email. Upon confirming your email address you will receive access (including the current password) the Subscriber Exclusive Printables Library. Newsletters will be delivered to your inbox 2 – 4 times a month.
Your privacy is important to me; therefore, I promise not to spam you or share your information. Every printable that I create is for PERSONAL USE ONLY. See my privacy policy for more information.