Have you ever been socked during the Christmas season? If not, it is fine time you get the game rolling in your neighborhood. Start a fun new tradition and sock someone yourself. Start here: You've Been Socked Game.
You've Been Socked is the Christmas version of the Halloween game, You've Been BOOed. This Christmas time game is often called You've Been Elf'd or You've Been Jingled but regardless the name the game play is all the same.
The object of You've Been Socked is to surprise a friend with a stocking filled with fun. The unsuspecting receiver of this fun Christmas game receives a knock at the door then upon opening the door they find a stocking on their doorstep yet there is no person in sight.
You've Been Socked Game

Disclosure: This post may contain affiliate links. Full disclosure policy can be read here.
How to Play:
Fill a stocking full of small surprises and include a copy of my "You've Been Socked" printable;
Print a second copy of my free printable to attach to the stocking;
Then secretly SOCK a friend or neighbor by leaving the fun filled stocking on their doorstep.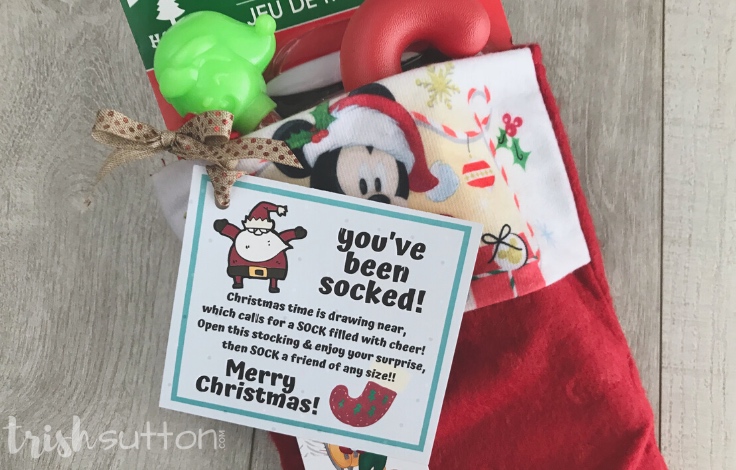 Of course, stocking contents are up to you! Small toys, candy, books, the possibilities are endless. My little guy and I purchased the goodies for our stockings at Target and the Dollar Tree and for less than $30 we filled two stockings (stockings included).
With any hope this festive game of ding, dong, ditch will be a game that keeps going then start up again next year!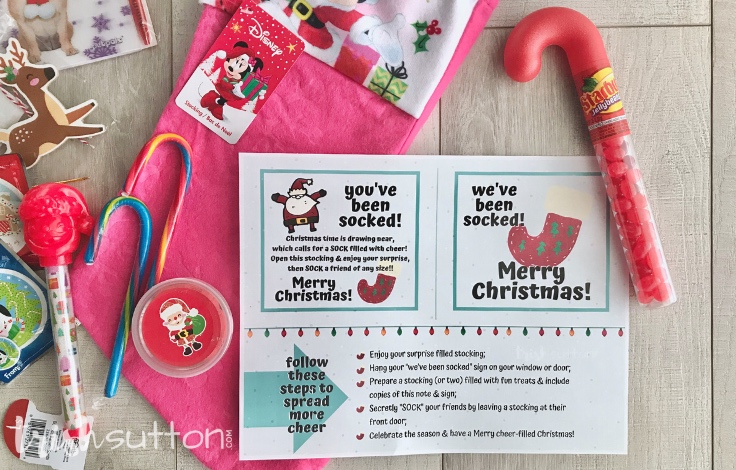 This printable is available as a free gift to my subscribers. To get yours, sign up below!
TrishSutton.com newsletter subscribers have exclusive access to ALL of my printables. To receive a link to view, print and download all of my printables, sign up below!
Current subscribers: there is a direct link to my printables library at the bottom of every email newsletter. Check your inbox for the last email that you received! (Or send me an email to receive another copy.)
After you signup you will receive a confirmation email. Upon confirming your email address you will receive access (including the current password) the Subscriber Exclusive Printables Library. Newsletters will be delivered to your inbox 2 – 4 times a month.
Your privacy is important to me; therefore, I promise not to spam you or share your information. Every printable that I create is for PERSONAL USE ONLY. See my privacy policy for more information.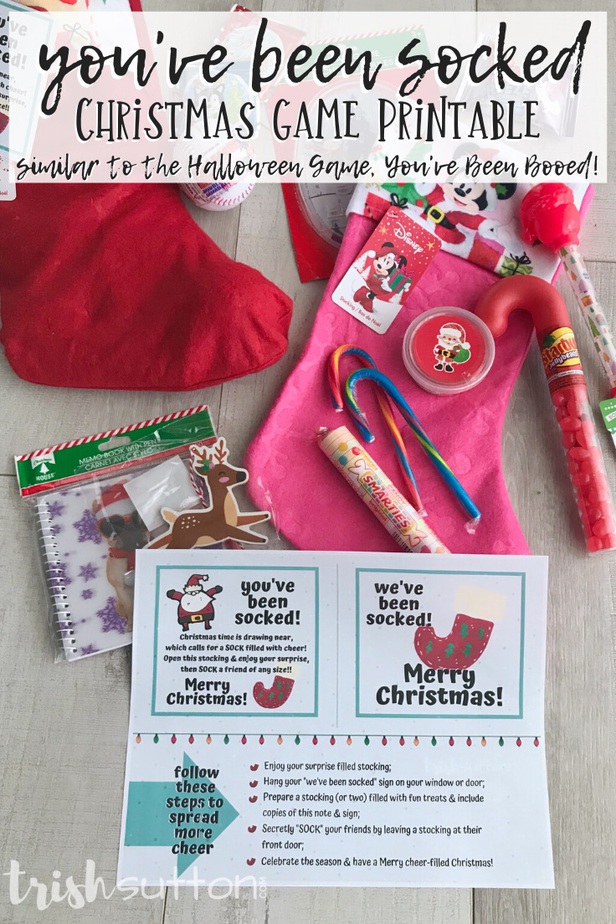 Before you go check out these Christmas themed free printables created by Trish: