Hats off to Theodor Seuss Geisel! (Especially tall red and white top hats.) And to celebrate March 2nd I have created six framable prints with Dr. Seuss Quotes.

Dr. Seuss Quotes | Six Free Framable Prints
Disclosure: This post may contain affiliate links. Full disclosure policy can be read here.
Today is Dr. Seuss's birthday and National Read Across America Day. Along with the Cat in the Hat and Fox in Socks, Dr. Seuss left us with many catchy quotes. Do you have a favorite Dr. Seuss quote? What about a book?
I absolutely adore the beloved author's books. A couple of my very favorites are Marvin K. Mooney, Will You Please Go Now? and Please Try to Remember the First of Octember! Of course, I do love the lessons Dr. Seuss shared in Oh, The Places You'll Go! and Horton Hears a Who!  However, it is even harder for me to select just one, two or even a few favorite Dr. Seuss quotes.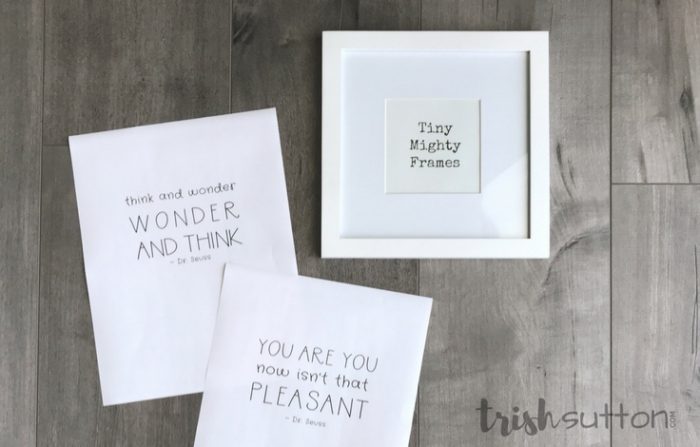 To honor of the man who brought us The Sneetches, The Lorax and  Wacky Wednesday I have created six framable prints. Each one of my free printables includes a Dr. Seuss quote.

These 8×8 prints would look great in any frame. They would fit in a child's room just as well as they would fit in an office or guest room. Dr. Seuss's thoughtful words do not discriminate generation nor age. His wisdom is one size fits all. Hang one, two, three or all six! Unlike the very colorful Dr. Seuss, I chose to frame my prints in simple white frames but I have no doubt that any bright color or a mix of colors would bring these quotes to life.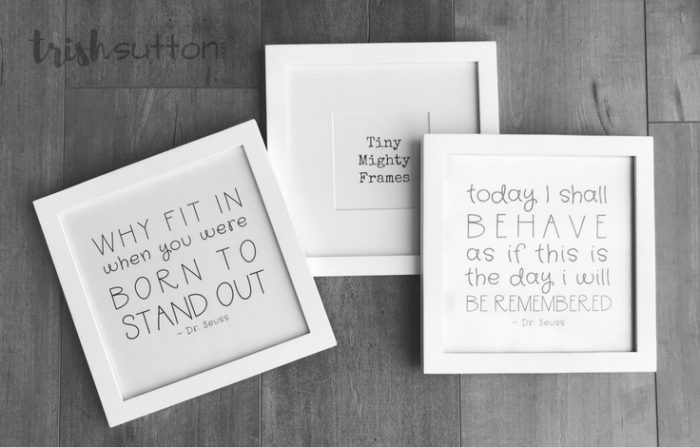 TrishSutton.com newsletter subscribers have exclusive access to ALL of my printables. To receive a link to view, print and download all of my printables, sign up below!
Current subscribers: there is a direct link to my printables library at the bottom of every email newsletter. Check your inbox for the last email that you received! (Or send me an email to receive another copy.)
After you signup you will receive a confirmation email. Upon confirming your email address you will receive access (including the current password) the Subscriber Exclusive Printables Library. Newsletters will be delivered to your inbox 2 – 4 times a month.
Your privacy is important to me; therefore, I promise not to spam you or share your information. Every printable that I create is for PERSONAL USE ONLY. See my privacy policy for more information.