Share inspirational lunchbox notes with these Free Printable Dr. Seuss Quotes for kids.
Free Printable Dr. Seuss Quotes
Lunchbox Notes for Kids
Disclosure: This post may contain affiliate links. Full disclosure policy can be read here.
Who wouldn't love finding a note in their lunchbox? And who doesn't absolutely love Dr. Seuss? I am all in on both; mid-day notes for my little guy and Dr. Seuss!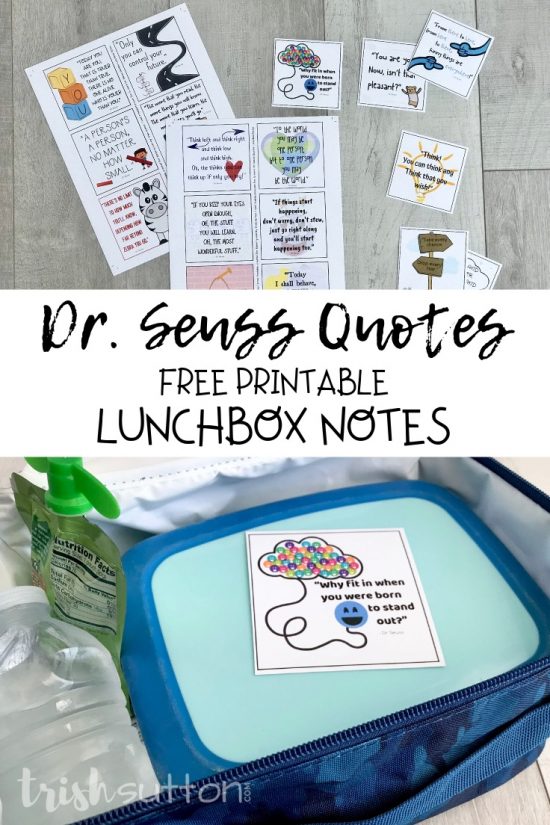 If you've been a reader here for long you likely know that I pack notes in my little guy's lunchbox. Be it jokes, love notes or, in this case, Dr. Seuss quotes I include a note daily. Recently, I created three pages of Dr. Seuss quotes to share with my little guy, as well as, to share with my readers and the readers over at Ideas for the Home by Kenarry.
Free Printable Dr. Seuss Quotes
Lunchbox Notes for Kids
In total there are three pages of quotes; each page has six notes. The first page can be found in my Printables Library and the other two pages are posted on Ideas for the Home by Kenarry.
Page 3: Visit my Exclusive Printables Library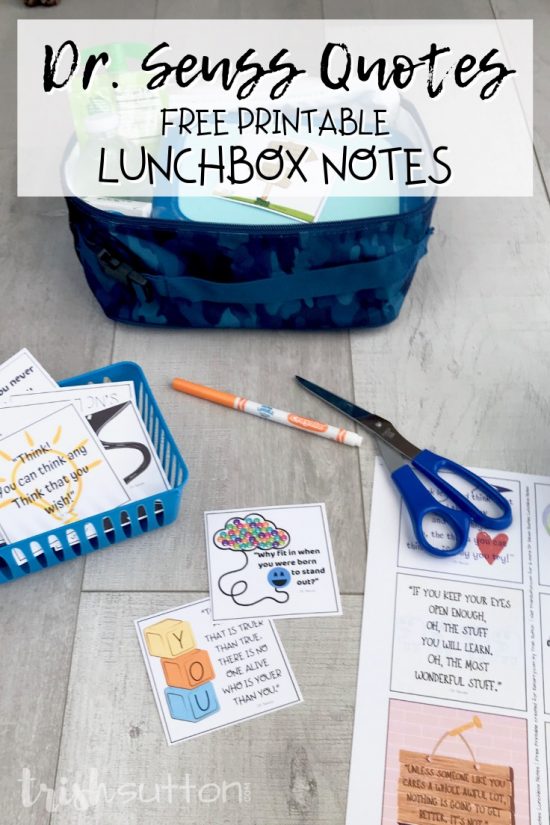 TrishSutton.com newsletter subscribers have exclusive access to ALL of my printables. To receive a link to view, print and download all of my printables, sign up below!
Current subscribers: there is a direct link to my printables library at the bottom of every email newsletter. Check your inbox for the last email that you received! (Or send me an email to receive another copy.)
After you signup you will receive a confirmation email. Upon confirming your email address you will receive access (including the current password) the Subscriber Exclusive Printables Library. Newsletters will be delivered to your inbox 2 – 4 times a month.
Your privacy is important to me; therefore, I promise not to spam you or share your information. Every printable that I create is for PERSONAL USE ONLY. See my privacy policy for more information.