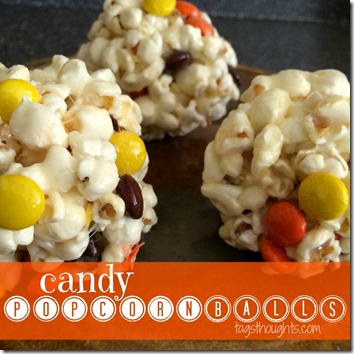 These Popcorn Balls are perfect for Fall Parties. 
Just a handful of ingredients including your favorite candy pieces, less than 30 minutes in the kitchen, and you will have a treat sure to be loved.
Especially if you are a popcorn fan like I am.
Ingredients:
– 10 cups of Popped Popcorn
– 10 ounces of Mini Marshmallows
– 3 tablespoons of Butter
– 1 cup of Candy Pieces (I opt for Reese's Pieces)
– Cooking Spray
– Wax Paper
Air popped Popcorn works great if you have an air popper;
I make mine with Coconut Oil on the Stove.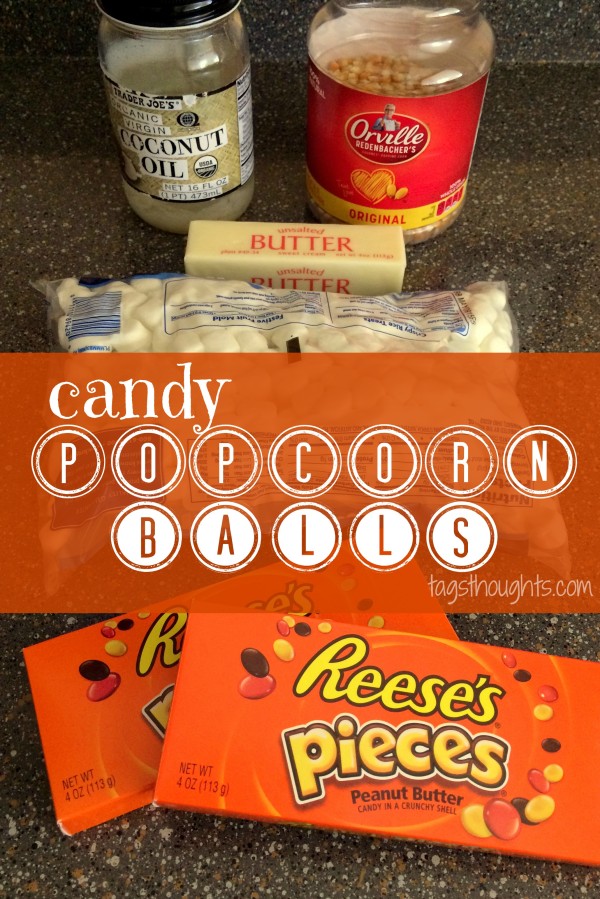 Directions:
Add Popped Popcorn to a Large Mixing Bowl, Heat Marshmallows and Butter over medium heat while continually stirring until all Marshmallows have melted, Pour mixture onto Popcorn and mix well.
Let the Popcorn and Marshmallow mixture sit for a few minutes to cool a bit before adding the Candy Pieces.  Stir the Candy in.
Cover hands in Cooking Spray (or wear kitchen gloves and cover those with Cooking Spray), form Popcorn into ten baseball size Popcorn Balls, let set on Wax Paper until cooled.
Adding food color to the Marshmallow mixture creates a festive food to match team colors or holiday colors!  Using red and green M&M's makes a delicious Christmas creation.  And as shown, Reese's Pieces are perfect fall colors.