This list of Backyard Activities includes 35 things to do outside! Simply scroll through the list below or grab the free printable to reference for those moments of "I'm bored". 

It doesn't matter how many scheduled vacations, play dates or local events that you have on the calendar the inevitable phrase "I'm bored" is bound to be said at some point over the summer months. After you exhaust your preferred "boredom is healthy" time frame I recommend checking out the list below for backyard activities.
Disclosure: This post may contain affiliate links. Full disclosure policy can be read here.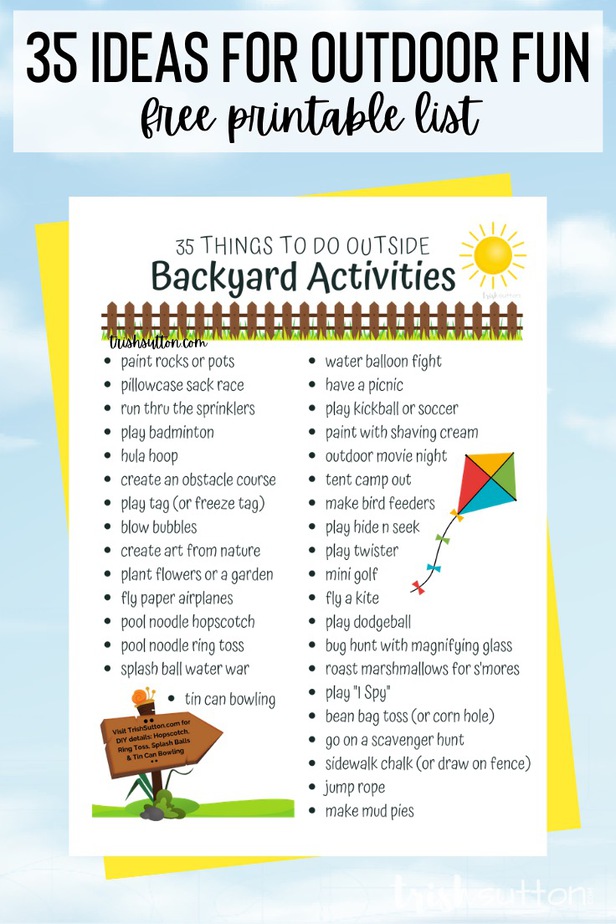 Backyard Activities | 35 Things To Do Outside
 – Paint rocks or pots
– Have a pillowcase sack race
– Run thru the sprinklers
– Play badminton
– Hula hoop
– Create an obstacle course
– Play tag (or freeze tag)
– Blow bubbles
– Create art from nature
– Fly paper airplanes
– Plant flowers or a garden
– Pool noodle hopscotch
– Pool noodle ring toss
– Splash ball water war
– Tin can bowling
– Water balloon fight
– Have a picnic
– Play kickball or soccer
– Paint with shaving cream
– Outdoor movie night
– Tent camp out in the backyard
– Make bird feeders
– Play hide n seek
– Play twister
– Mini golf
– Fly a kite
– Play dodgeball
– Bug hunt with magnifying glass
– Roast marshmallows for s'mores
– Play "I Spy"
– Bean bag toss (or corn hole)
– Go on a scavenger hunt
– Sidewalk chalk (or draw on fence)
– Jump rope
– Make mud pies

Backyard Activities Free Printable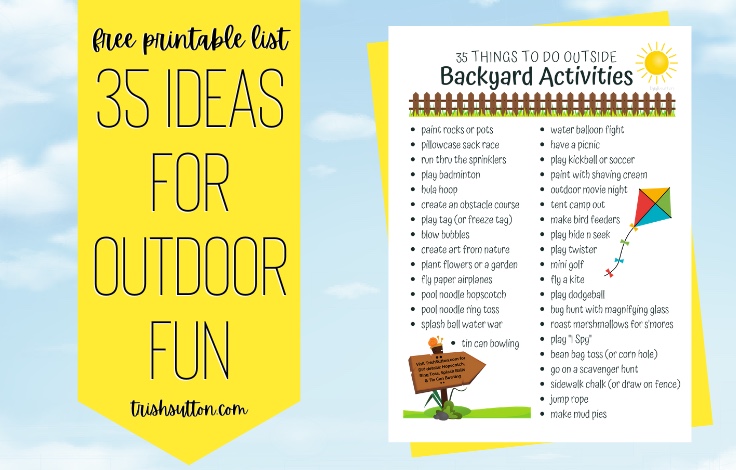 TrishSutton.com newsletter subscribers have exclusive access to ALL of my printables. To receive a link to view, print and download all of my printables, sign up below!
Current subscribers: there is a direct link to my printables library at the bottom of every email newsletter. Check your inbox for the last email that you received! (Or send me an email to receive another copy.)
After you signup you will receive a confirmation email. Upon confirming your email address you will receive access (including the current password) the Subscriber Exclusive Printables Library. Newsletters will be delivered to your inbox 2 – 4 times a month.
Your privacy is important to me; therefore, I promise not to spam you or share your information. Every printable that I create is for PERSONAL USE ONLY. See my privacy policy for more information. 
More Boredom Busters:
Scavenger Hunts: