Valentine's Day does not come without sugar. However, if you replace the candy with a silly straw and grab my Kids Valentine Printable you end up with an ex-STRAW-dinary class Valentine.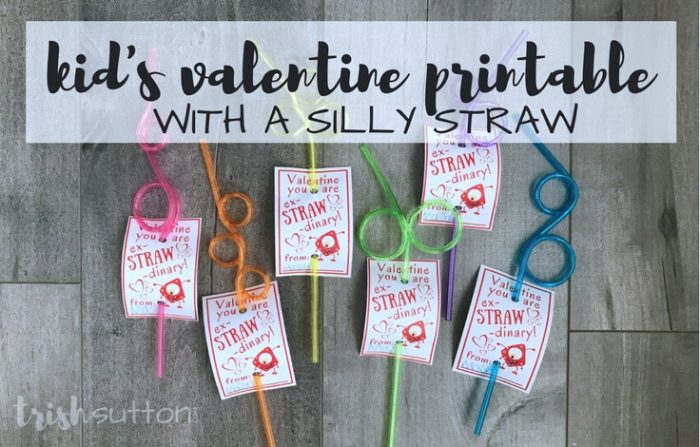 Kids Valentine Printable | Silly Straw
Valentine's day is made up of chocolate, conversations hearts and silly straws. Yes, silly straws!!
Since preschool our little guy has shared candy free Valentines with his class. He has given his classmates race cars, dinosaurs and airplanes. This year he is sharing his love of silly straws with his classmates.
I am not sure if it is all kids this age, most of them or just mine but for whatever reason our little guy has loves silly straws. This year he will  be tucking a silly straw and an ex-STRAW-dinary note into 21 pink and red boxes. The Kids Valentine Printable note reads, "Valentine, you are ex-STRAW-dinary!"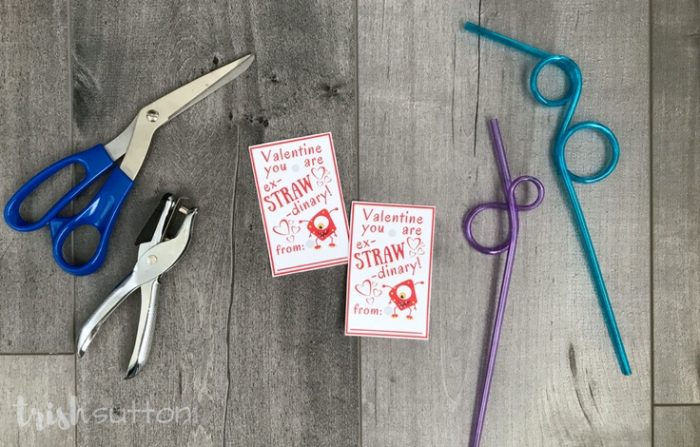 Kids Valentine Printable | Silly Straw
Disclosure: This post may contain affiliate links. Full disclosure policy can be read here.
These sugar free Valentines came together with just a few supplies…

Silly Straws
Kids Valentine Printable
(link below)
Scissors or Paper Cutter
Hole Punch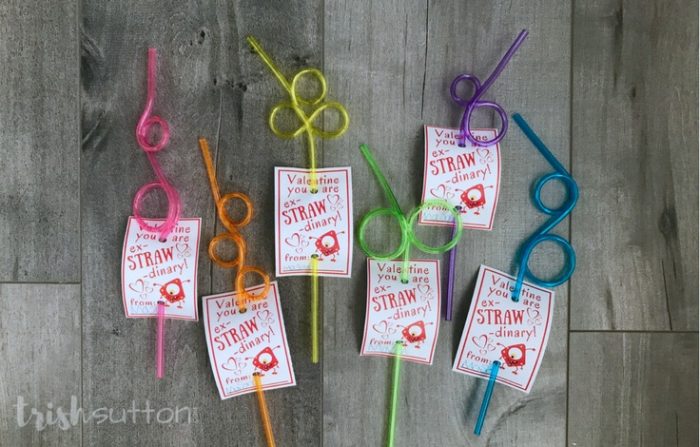 My ex-STRAW-dinary printable is made up of eight notes. Simply cut each one out then hole punch the two grey circles on each card. Be sure to add the sender's name on the 'from' line then slide a fun silly straw through each of the two holes.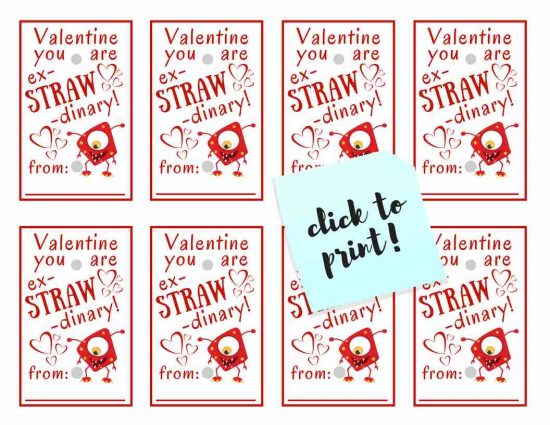 TrishSutton.com newsletter subscribers have exclusive access to ALL of my printables. To receive a link to view, print and download all of my printables, sign up below!
Current subscribers: there is a direct link to my printables library at the bottom of every email newsletter. Check your inbox for the last email that you received! (Or send me an email to receive another copy.)
After you signup you will receive a confirmation email. Upon confirming your email address you will receive access (including the current password) the Subscriber Exclusive Printables Library. Newsletters will be delivered to your inbox 2 – 4 times a month.
Your privacy is important to me; therefore, I promise not to spam you or share your information. Every printable that I create is for PERSONAL USE ONLY. See my privacy policy for more information.