Replace the letters and numbers in classic Bingo with colorful pictures of school supplies and you have Back to School Bingo. This free printable game includes 25 different Bingo cards which means it can be played at home or in the classroom.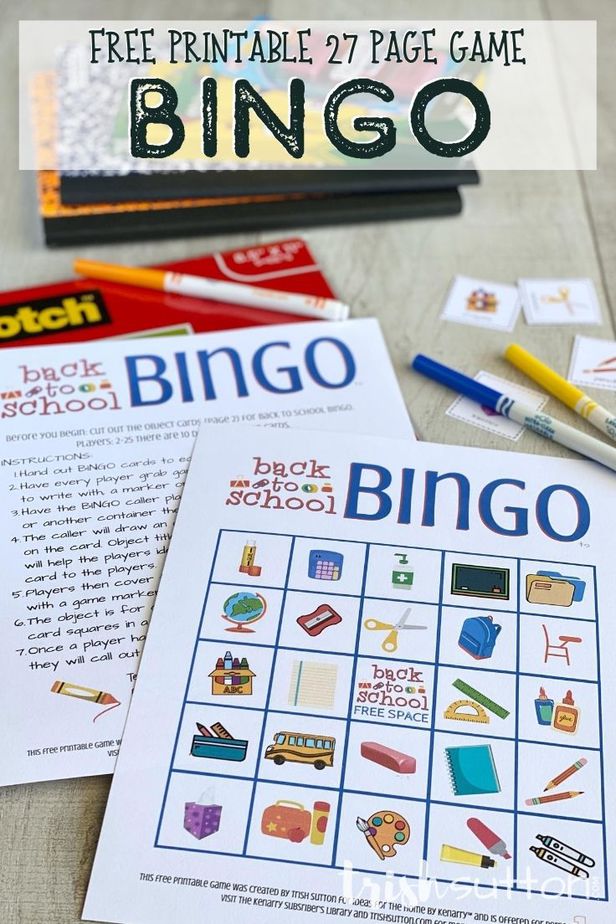 Back to School Bingo Free Printable Game
Disclosure: This post may contain affiliate links. Full disclosure policy can be read here.
I created this free 27 page game to share with the readers at Ideas for the Home by Ideas for the Home by Kenarry. Simply follow the link below to print a copy of this fun colorful game then enjoy this free printable game with 2-25 players.
Whether the return of school will be at home or in the classroom this special edition game will be a hit with kids of all ages.

Check out more of my free printables for school here:

TrishSutton.com newsletter subscribers have exclusive access to ALL of my printables. (My Back to School Bingo Free Printable Game is on Ideas for the Home By Kenarry.) To receive a link to view, print and download all of my printables, sign up below!
Current subscribers: there is a direct link to my printables library at the bottom of every email newsletter. Check your inbox for the last email that you received! (Or send me an email to receive another copy.)
After you signup you will receive a confirmation email. Upon confirming your email address you will receive access (including the current password) the Subscriber Exclusive Printables Library. Newsletters will be delivered to your inbox 2 – 4 times a month.
Your privacy is important to me; therefore, I promise not to spam you or share your information. Every printable that I create is for PERSONAL USE ONLY. See my privacy policy for more information. 

EVEN MORE School Printables by Trish…
This Back to School Bingo Free Printable Game was originally posted on August 19th, 2020.